RUN!
Staff member
Moderator
Joined

Sep 24, 2003
Messages

38,079
Location
I don't wanna grow up.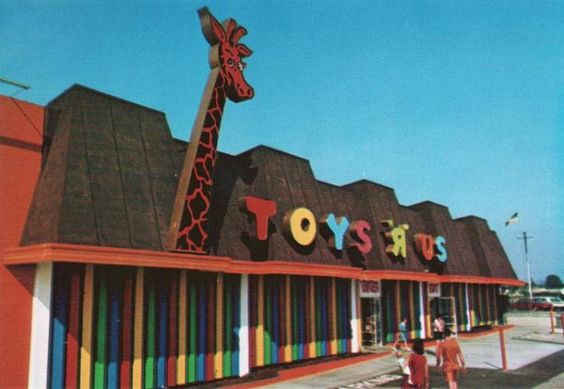 Today Toys R Us announced it is completely going out of business. This is the news I've been dreading for some time but I knew was coming. The most recent development before this was the corrupt execs voting themselves a gazillion dollar bonus while closing 2500 stores. It was a pump and dump; they considered the franchise a lost cause and were just squeezing it for its remaining value before getting out of there.
I refuse to believe kids today don't want to go to Toys R Us. A giant room full of toys can't ever lose its appeal, can it? This gets even more maddening when you think about the stale businesses circling the drain who are still around in some form today. Toys R Us actually met the Reaper before K-Mart did. How did that happen???
Toys R Us was the closest thing to heaven when I was little. You'd walk in there, the automatic doors would go WHOOSH and blast that familiar smell in your face, and you'd be instantly greeted with all these incredible things stacked straight to the ceiling you knew you'd never have (because they always put the most expensive items up front). And like most of you I remember the long looooong aisle of video game box photos with pouches that had little yellow slips of paper with prices on them. You'd take them to the stock boy and he'd get your game. And often, all those illustrations were all you had to go on, because you couldn't even read the back of the box. "This game's boxart looks so rad, it HAS to be good." It usually wasn't.
But the demos! You could try out NES, SNES, Genesis, Game Boy or whatever was currently on the market, all in one place (well before other stores let you). You wished you owned the special Game Boy kiosk that transmitted the games onto a big TV. You wished the four-year-old behind you would stop tugging your leg and wait his dang turn.
You knew which of the segregated aisles were for you because the girl's aisles were blindingly hot pink and the boy's aisles smelled like a basketball. You couldn't make up your mind what to get because there were just SO.....MANY.....TOYS. Sometimes you were here to make a birthday or a Christmas list and you were free to explore wanderlust, but there was no way your mother was buying all 57 listed items on there.
A world without Toys R Us will be a cruel world indeed. What do you remember about it?