[H="1"]Toonzone Anime of the Month Club (July 2016)[/H]
Get ready to lay all of your cards on the table for this month's Toonzone AotM selection:
selector infected WIXOSS
, from the director behind
Steins;Gate
.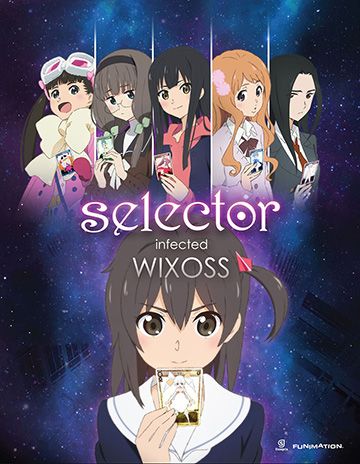 [H="5"]Synopsis[/H]
From Funimation:
In the popular game WIXOSS, there are special cards called LRIGs that few players know about—cards that possess personalities and wills of their own. Ruko is a teenage girl who just found one of these rare cards. Now, she can use her LRIG to battle in a strange, dark plane of existence. If she wins, her wishes will be granted—but what happens if she loses?
[H="5"]Where to Watch[/H]
The complete series (including
selector spread WIXOSS
) is available on DVD/Blu-ray, Amazon, iTunes, and the PlayStation Network as well as watchable via Hulu and Funimation:
Funimation:
http://www.funimation.com/selector-infected-wixoss
Hulu:
http://www.hulu.com/selector-infected-wixoss
[H="5"]Discussion[/H]
All comments and critiques of the series are welcome; however, we ask that you please keep any and all potential spoilers to a minimum by placing it in spoiler tags if necessary.
As always, enjoy the show, everyone, and please don't forget to rate the series when you're done!

#ToonzoneAOTM