[H]Toonzone Anime of the Month Club (January 2016)[/H]
Boy meets Girl meets Track & Field in this month's Toonzone AotM selection:
Suzuka.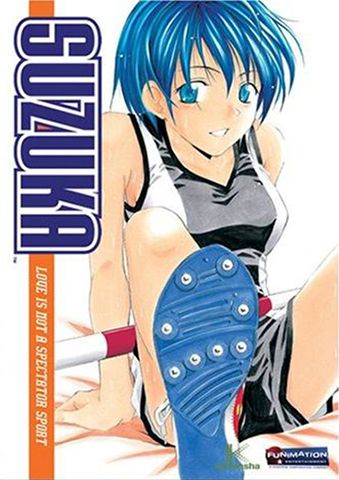 [H]Synopsis[/H]
From Funimation:
High school is a hectic time of change for most… But for happy-go-lucky Yamato, it's gonna be a complete revolution! He's the new kid in class, having transferred to the big city to attend Aoba High, where he finds himself smitten with the local rising star of track and field. Yet two people could not be more different! And as Suzuka remains completely uninspired by Yamato's cheerfully irresponsible nature, things progress from bad to worse with record-breaking speed! So when the young man decides to step up his efforts and join the track team, his best might not measure up…
It's mixed signals and high school hormones with everyone running in circles! Throw in the antics of a handful of high school stereotypes, and Yamato's completely out of his league! When love is not a spectator sport, the only question is who will go the distance?
[H]Where to Watch[/H]
The complete 26-episode series is available now on DVD as a S.A.V.E. (Super Amazing Value Edition) boxset, as well as viewable online via Funimation and Hulu.
Hulu link:
http://www.hulu.com/suzuka
Funimation link:
http://www.funimation.com/suzuka/
[H]Discussion[/H]
All comments and critiques of the series are welcome; however, we ask that you please keep any and all potential spoilers to a minimum by placing it in spoiler tags if necessary.
As always, enjoy the show, everyone, and please don't forget to rate the series when you're done!

#ToonzoneAOTM