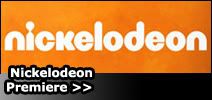 Saturday, March 13, 2010 at 10 a.m. ET/PT
#201 "The Red Squirrel / It's About Time"
The penguins fall under the paranoid spell of Skipper's idol, Rockgut. / Kowalski sends his future self to keep his present self from creating a time machine.
Comments?


View upcoming episodes of The Penguins of Madagascar on Nickelodeon and Nicktoons.