Joined

Nov 11, 2003
Messages

29,929
Location
Transformers Cybertron "Race" Talkback (Spoilers)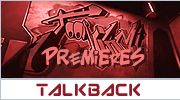 The semi-season finale has arrived on CN, and you can bet that the Transformers are ready tp speed into action. Can Hot Shot prove he's the fastest thing on wheels with optimus, Red Alert, and Vector Prime at his side or will Ransack and Crumplezone steal the scene, the planet cup, and destroy Override in the process? The race is about to begin, so start your engines with Cybertron on CN.​
Last time: Optimus, Vector Prime, and Landmine arrived on Speed Planet only to discover that Hot Shot had disobeyed orders. Optimus wasn't to pleased, but with a little assistance from Landmine they were able to get Hot Shot the confidence he needed to race off in the Speed Planet races.​
This time: The first round offically begins as the Autobots race against Ransack and Crumplezone. Meanwhile Starscream begins his scheme to overthrow Megatron once more, and the kids discover history abuot the ancient Cybertronians visit to Earth.​
Please do not spoil this series. I know some of you have watched Galaxy Force, and you can give us that insite through the appropraite
tag, or else you can share that info after the episode has aired.
Also remember that Transformers Cybertron joins the Kids WB! AfterToons show this next Monday at 4:30 PM Eastern time with the premeire of episode 1 of Cybertron. Catch the talkback for Fallen and Haven in the Anime forum.​
Before we go on, I'd like to apologize for the 2 3 1/2 ratings on the poll. I goofed when I was typing it up, so treat the second as 3 1/4 woes. Now, onto the talkback.​
Last edited by a moderator: