Moderator
Staff member
Moderator
May 11, 2007
45,466
0
113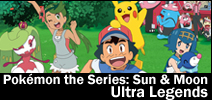 Join Ash and Pikachu as they make new friend and explore the Alola region.
Recently:
Misty and Brock arrive in Alola for their vacations.
Brock receives a Comfey from Nurse Joy.
Brock battles against Olivia, but it is interrupted by Team Rocket.
Misty and Brock return to Kanto.
Ash and his friends arrive on Poni Island to do their research projects.
Ash meets a young trainer named Hapu.
Ash encounters Plumeria from Team Skull.
Ash battles against Gladion and loses.
Sopholces' Charjabug evolves into Vikavolt.
Lana's Popplio evolves into Brionne and she receives a Primraium Z Crystal.
Last Time:
"Evolving Research!"
While at Poni Island, Sophocles decides he wants to evolve his Charjabug, so Hapu informs him that the electrical energy around Vast Poni Canyon will allow him to do so. Ash, Kiawe and Sophocles then head to the canyon where they find Horacio and his group who are in the canyon to do the same. At the same time, Lana decides to train her Popplio with her old friend Aya and her recently evolved Primarina. With Popplio learning to properly sing with Primarina, does it count as training? How will everyone's project turn out?
This Time:
"Run, Heroes, Run!"
Saturday June 8th, 9:00AM
On Poni Island, it's time for Kiawe and Mallow to work on their class research projects. The island is currently without a kahuna, so Kiawe decides to battle Tapu Fini in a grand trial instead. He and Ash set off together to challenge the Island Guardian. Meanwhile, Mallow asks for Hapu's help in creating some delicious Poni Radish dishes to serve at her family's restaurant back on Melemele Island. How will they both do for their research projects?​
Notes:
The 22nd season of Pokemon is here to keep promoting the seventh generation.
Disney XD is the new home for the Pokemon anime series.
New Pokemon have been revealed for Pokemon Sword/Shield.
Pokemon Sword/Shield will be released on November 15th.
Detective Pikachu is coming to the Switch.
Pokemon Masters is a new mobile game coming out later this year.
Last edited: