Moderator
Staff member
Moderator
May 11, 2007
44,970
Ratings
113
29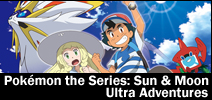 Join Ash and Pikachu as they make new friend and explore the Alola region.
Recently
:
Lillie confronts her mother.
Ash defeats the Ultra Beast possessing Lusamine with the Z move 10,000,00 Volt Thunderbolt.
Lillie and Gladion are reunited with their mother.
Ash and his friends leave Ultra Space and go back to Alola.
Professor Kuki proposes to Professor Burnet.
Ash and his friends prepare a wedding ceremony for them.
Lusamine asks Ash and his friends to become Ultra Guardians to battle against Ultra Beasts.
Last Time:
"Let Sleeping Pokemon Lie!"
Ash and his friends are wondering about Principal Oak's partner Pokemon Komala. It spends its entire life sleeping away. Jigglypuff shows up and puts everyone to sleep with its song, but Komala is able to avoid Jigglypuff's marker even when asleep. Jigglypuff shows up to battle Komala. Which Pokemon will be the winner of this battle?
This Time:
"The Dex Can't Help It!"
Saturday May 12th, 9:00AM
A strange washing machine ends up at Professor Kukui's house. However, it has a Wash Rotom in it and Pikachu's Thunderbolt forces Wash Rotom to trade places with Rotom Dex. Before long, the washing machine holding Rotom Dex is being carried away. Will Rotom Dex get back into Ash's Pokedex before it's too late?
​
Notes:
The 21st season of Pokemon is here to keep promoting the seventh generation.
Disney XD is the new home for the Pokemon anime series.
Pokemon Ultra Sun/Ultra Moon are available now for the 3DS.
Pokemon Gold and Silver are available on the 3DS eShop.
There is a main series Pokemon game in development for the Switch system.
The episodes are available on both Disney XD's website and On Demand section.
Please avoid using detailed spoilers here. Thank you.