The World's Finest
Staff member
Administrator
Moderator
Reporter
Joined

Apr 23, 2001
Messages

42,219
Location
The galaxy's toughest bounty hunters want Han Solo, and they'll go through Boba Fett if they have to!
Star Wars: War Of The Bounty Hunters Alpha #1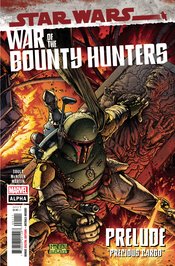 Writer: Charles Soule
Penciller: Steve Mcniven
The notorious bounty hunter Boba Fett has finally landed his greatest prize – Han Solo, frozen in carbonite for easy transport. Fett will bring the smuggler to Tatooine to collect the massive bounty placed on Solo's head by the fearsome crime lord Jabba the Hutt. Sounds easy. What could go wrong?
Discuss this Star Wars event right here!
Related Discussion:
Star Wars (2020 Ongoing) Series Talkback (Spoilers)
Star Wars: Darth Vader (2020 Ongoing) Series Talkback (Spoilers)
Star Wars: Bounty Hunters (2020 Ongoing) Series Talkback (Spoilers)
Star Wars: Doctor Aphra (2020 Ongoing) Series Talkback (Spoilers)