It's 5PM EST, so,
as The Penguin instructed
, this talkback can be posted now.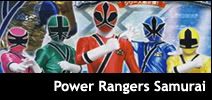 A new generation of Power Rangers must master the mystical and ancient Samurai Symbols of Power which give them control over the elements of Fire, Water, Sky, Forest, and Earth. Under the guidance of their all-knowing mentor and the aid of their devoted animal Zords, they battle the dark forces of the Netherworld and a mysterious Warrior bent on destruction.
Finally, the Power Rangers legend continues. An adaptation of Super Sentai 33, Samural Sentai Shinkenger, Power Rangers Samurai is exclusive to Nickelodeon and NickToons.
Episode Guide:
---Season One---
1. Origins (1)
2. Origins (2)
3. The Team Unites - 2/7
4. Deal with a Nighlock - 2/13
5. Day Off - 2/20
6. Sticks and Stones - 2/27
7. Fish Out of Water - 3/6
8. There Go the Brides - 3/13
9. I've Got a Spell on Blue - 3/20
10. Forest for the Trees - 3/27
11. Test of the Leader - 4/10
12 - Jayden's Challenge - 4/17
13 - Unexpected Arrival - 4/30
14 - Room For One More - 5/7
15 - The Blue and the Gold - 5/14
16 - Team Spirit - 5/21
17 - The Tengen Gate - 5/28
18 - Boxed In - 6/4
Previous Power Rangers Premiere Talkbacks:
Jungle Fury
RPM -
Part 1
/
Part 2
Mighty Morphin' Power Rangers (Reversioned)
Last edited by a moderator: