Nov 26, 2001
27,822
Ratings
36
38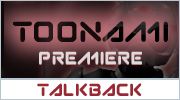 Hot Wheels "Acceleracers: Ignition"​
Leading the way! Hot Wheels returns to Toonami tonight with the first part of a movie series that will air over the coming months. This is the official Talkback thread for the
Hot Wheels
feature "Acceleracer: Ignition" airing on Toonami January 8th at 6.5 PM (5.5 Central), half an hour earlier than the usual Toonami start time. Taking on the most wicked course the world has seen and comment on this episode!
In the previous Hot Wheels OAV, specially chosen racers took on the treacherous Highway 35, an alien course with a secret prize at its finished. It took more than just their driving skills to survive as another nefarious group was also after the prize. The world was saved for the time being, but will we see any of the previous heroes or villains again? Tune in to find out. Only Toonami.
The next chapter of Acceleracers is supposed to air later this year. Duel Masters will be back on in its usual timeslot next week.
Spoilers: This thread is intended for discussion of the feature and thus spoilers are likely to abound in this thread. Thus, if you have not yet watched the presentation and you would not like to be spoiled, it is recommended that you stay out of the thread.
If you would like to purchase
Hot Wheels: World Race
on the cheap, we recommend shopping
Amazon
.