Sep 28, 2003
2,839
Ratings
38
38
Sasuke's attack at the Kage Summit reaches its climax, as the other Kage authorities join in the battle.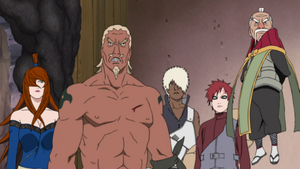 The Official Naruto Shippuden Talkback Thread
OPENING:
"Diver" by Nico Touches the Walls
CLOSING:
"Midnight Orchestra" By Aqua Timez​

Last Time on NARUTO SHIPPUDEN
Sasuke fights the Raikage & Kazekage (who still possesses his sand jutsu) and their bodyguards. Meanwhile, Madara reveals to Naruto the depths of Sasuke's issues.
​
No spoilers of plot details or revelations beyond Chapter 464/Episode 203 even though the Manga and Anime series have been finished for a year. Sasuke will hate you for it...