Stone free, do what I please
Joined

Sep 30, 2005
Messages

28,847
Location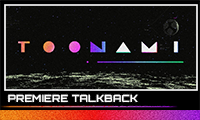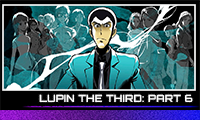 Lupin the Third Part VI
Episode 10
"Darwin's Bird"
​
Last time:
The specialist treasure hunter calling herself Cherry lures Lupin to an "underground" auction of some treasure of the great pirate Zeke Barbatos who was active in Brazil 75 years ago. The treasure reportedly included the Jet-Black Diamond and Venus Ruby.

At the auction, Lupin encounters an elderly woman who buys a kokeshi doll similar to his own which is part of the treasure. Lupin steals it and then returns it to the woman after extracting her scrap of Zeke's treasure map, but Fujiko swipes the pieces to track down the Jet-Black Diamond herself. The woman, her granddaughter, and Fujiko converge on the location of the treasure in Brazil, with Jigen and Goemon following suit while Lupin stays behind in London.

A drone he pilots meets up with the women, as they learn the woman is actually Cherry, as well as the sister of Sakura, Zeke's lover, who committed suicide shortly after Zeke's execution. They meet at the foot of a tree where the flowers bloom every 75 years in the full moon, with Cherry leaving the two dolls at the base of the tree as a memorial to the two lovers, not interested in any treasure.

Fujiko digs to find the diamond, but a scuffle with Zenigata reveals the box only contains pepper, as it was a valuable commodity 75 years ago and was referred to as the "Jet-Black Diamond".
This time:
Lupin and Fujiko need to dig up an infamous fossil, but end up uncovering an even more ancient truth.
Note:
No episode next week due to a Shenmue marathon.