Opening theme:
"Departure!" by Masatoshi Ono
[VERSION 5]
Ending theme:
"Nagareboshi Kirari" by Yuzu
​
Characters
The Hunters: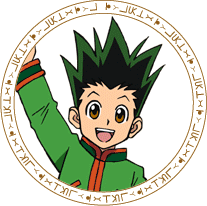 Gon Freecss
Voiced by: Erica Mendez
Gon is a young energetic boy from Whale Island who has become a Hunter to venture the world and find his father, Ging. His latest adventure has brought him to Kite, one of his father's old students, and now he and Killua are about to embark on the most dangerous adventure of their lives. Gon is an enhancement-type Nen user, able to unleash a destructive amount of Nen from his fists.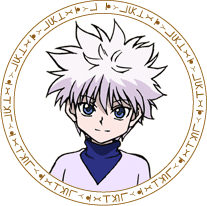 Killua Zoldyck
Voiced by: Christina Vee
Killua is the youngest son of the Zoldycks, a family of assassins known the world over. After meeting Gon, the two quickly became best friends and he's been tagging along with him ever since, which has led him to join his friend in following Kite. Killua is a transmutation-type Nen user, able to absorb and control electricity.
Kite
Voiced by: Christopher Corey Smith
A Contract Hunter who studied under Gon's father Ging. He is the leader of a group of Hunters who are in the midst of an investigation concerning a dangerous species of insects known as the Chimera Ants. Kite is a conjurer-type Nen user, which allows him to summon a slot machine that randomly selects a weapon for him.
The Kakin Exploration Team: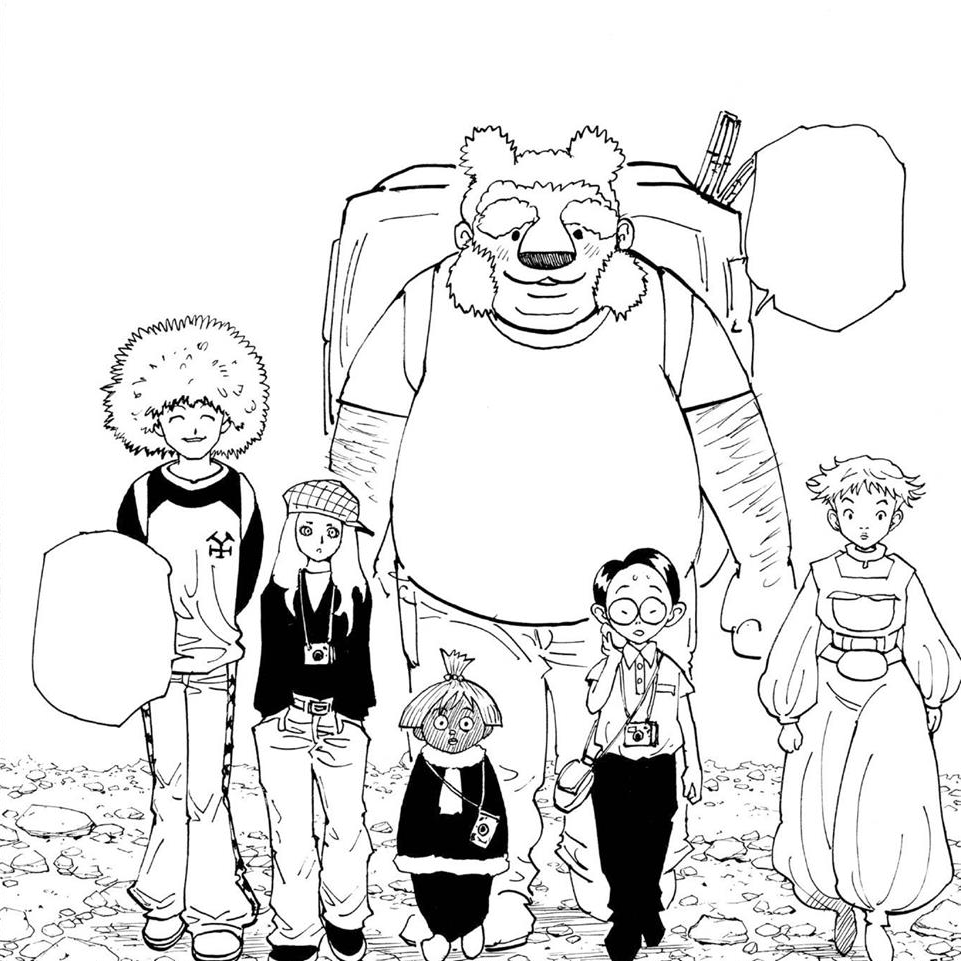 (From Left to Right)
Stick Dinner - Voiced by: Greg Chun
Spinner Clow - Voiced by: Laura Stahl
Podungo Lapoy - Voiced by: Reba Buhr
Monta Yuras - Voiced by: Bill Rogers
Lin Koshi - Voiced by: CJ Williams
Banana Kavaro - Voiced by: Skyler Davenport
A group of amateur Contract Hunters who have worked with Kite for three years under the employment of the government of Kakin. Their current assignment is to study the potential danger of the Chimera Ants. Due to strict regulations with entering the border of the NGL, a country where technology is illegal, only Stick Dinner and Podungo were able to enter, with the rest waiting outside in a nearby village for them to return. However, after seeing the dangers that awaited them inside, Kite sent Stick and Podungo back to the border, ordering them to contact the Hunter Association immediately.
The Chimera Ants:
Chimera Ant Squadron Leaders
(Top Row)
Hagya
Hagya is a lion-type Ant with a calm and collective personality. However, at the same time, he is cruel towards humans, finding that killing them is highly addictive, to the point where he keeps some humans for himself to eat.
Alligator - Voiced by: J.D. Zelman
Alligator is competitive, to the point of wanting to make a game out of hunting humans. However, at the same time, he is lazy and laid-back, preferring his troops to do the work for him.
Colt - Voiced by: Zach Aguilar
The first offspring of the Queen born from human genes, Colt's devotion to the Queen is absolute, and he will do whatever is needed to assist her.
Cheetu - Voiced by: Cedric L. Williams
Being the fastest Chimera Ant, Cheetu is arrogant, to the point of being impressed by his own speed, and confident, only fighting when he has a chance to show off his abilities. He is also simple-minded, having no long term goals unlike some of his fellow Squadron Leaders, and is just content being the fastest of all.
(Middle Row)
Zazan - Voiced by: Allegra Clark
Zazan is confident and egocentric, wanting to claim as much power as possible. While she is normally composed, that side will quickly fade if her looks are in any way damaged.
Welfin
The lowest ranking of the Squadron Leaders, Welfin aims to reach the top so he may serve the future King.
Panda
Panda is the type to care deeply about someone, but quickly move on as soon as they're gone.
Meleoron - Voiced by: Bill Rogers
An oddity among the Ants, Meleoron is a pacifist and dislikes fighting and killing. Because of his capability of showing empathy, it could be said that he is more in touch with his human side than the others.
Peggy - Voiced by: Hank Ketchum
Having a fascination with the human world and its inner workings, Peggy is the most knowledgeable of the Ants and can often be found reading various books obtained in their conquests.
(Bottom Row)
Bloster - Voiced by: Chris Cason
A lobster-type Ant who was born from the genes of an NGL soldier, and thus has a latent knowledge of how their weapons work.
Mantis
A praying mantis-type Ant.
Octopus
An octopus-type Ant with a white beard and a postman's hat.
Bihorn
An Ant resembling a minotaur, Bihorn is said to be the strongest of the Squadron Leaders in terms of physical strength.
Turtle - Voiced by: Mark Diraison
Turtle is a sycophant that would do everything to please the individual with most power. He was the one to suggest to the Queen that the Squadron Leaders be granted names.
Yunju
Voiced by: Edward Bosco
Yunju is a centaur-like Chimera Ant, another one of the Queen's squadron leaders. He has recently captured the base of the NGL's leader Gyro, as well as the production facility for the deadly drug D2.
Rammot
A rabbit-like Ant soldier working under Colt. Rammot is cruel and sadistic, taking pleasure in the screams of his victims, as well as quick-tempered and extremely self-centered. Rammot wishes to rise above the rank of a soldier, only obeying his superiors because he is afraid of them.
Pike
A spider-type Ant soldier working under Zazan, Pike is simple-minded and extremely loyal to his squadron leader. He was born with the ability to see Nen, allowing him to be the first one to become aware of the secret abilities which certain humans possess.
Chimera Ant Queen
Voiced by: Cindy Robinson
The queen ant, whose sole goal is to find the best genetic material to create the King. For this, she is currently raising an army, and has recently discovered that human flesh tastes best…
Episode 81
"The × Fight × Begins"
Chapters adapted: 191-192​
Last time...
The past of the NGL's leader Gyro was revealed, showing how he had treated his alcoholic father like a god, despite the abuse he had been dealt with. When this image was shattered by a bully, Gyro snapped and killed his father before disappearing. Nine years later, he reemerged and founded the NGL. Back in the present, the Chimera Ants who had surrounded his headquarters had broken in and killed him, bringing Gyro's body to their queen for food.

Back at the Queen's nest, the scholarly Peggy examined the corpses of their Ant soldiers who had been killed by Pokkle. Through this autopsy, the Ants learned that certain humans possess abilities they don't currently have access to, but may be possible for them to learn.

After having no luck contacting other Hunter groups to warn them about the Chimera Ants, Pokkle's group decided to leave the NGL. However, they were suddenly attacked by Zazan and a spider-like Ant, which slaughtered everyone except Pokkle and Ponzu. Pokkle attacked the spider Ant, but just as he was about to deliver the finishing blow, Zazan stabbed him with her tail. She then ordered the spider Ant to take Pokkle's body back to the Queen, believing his power would provide the nutrients of a thousand normal humans.

Ponzu, meanwhile, sent her bees off to try one last time to contact any nearby Hunters, before taking off into the forest to run for her life. But before she could reach safety, an Ant with a gun shot her in the back. As she collapsed onto the ground, the Ant fired several more times at her head, and then ate her body. Shortly after, Kite's group received the message from the bees; Kite ordered Stick and Podungo to go back to the border and contact the Hunter Association ASAP, before taking off with Gon and Killua. They arrived to find only Ponzu's hat and some scraps of clothing surrounding a huge puddle of blood. Amidst the blood, they found a bullet manufactured by the NGL. Kite then worried, knowing that if the Chimera Ants now had access to the NGL's resources, they just became even more dangerous.
This time…
Kite and the boys encounter their first humanoid Chimera Ant.
Notes:
The chapters which this episode covers can be found in volume 19 of the manga release.
Three Bluray/DVD sets are available now from Viz Media, containing the first 50 episodes.