Stone free, do what I please
Joined

Sep 30, 2005
Messages

28,822
Location
Opening theme:
"Departure!" by Masatoshi Ono
[VERSION 1]
Ending theme:
"Just Awake" by Fear, and Loathing in Las Vegas
​
THE FINAL 9 EXAMINEES:
Gon Freecss (Erica Mendez)
Examinee #405, Gon is a young energetic boy from Whale Island who has set out into the world for the first time to become a Hunter and find his father. Gon was the first pass the Hunter Exam, due to Hanzo forfeiting their match after several attempts to make Gon do the same.
Kurapika (Erika Harlacher)
Examinee #404, Kurapika is the last living member of the Kurta clan. He intends to become a Hunter in order to gain the resources necessary to track down and eliminate the Phantom Troupe, a gang of mercenaries that killed his family for their scarlet eyes. Kurapika passed the Hunter Exam due to Hisoka forfeiting their match, but not before he whispered something into Kurapika's ear.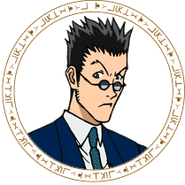 Leorio Paradinight (Matt Mercer)
Examinee #403, Leorio is a hot-headed participant who has joined the Hunter Exam to help pay for his medical studies, so that he may become a doctor and help children in poor nations. Leorio passed the Hunter Exam due to interference from Killua in his match against Bodoro.
Killua Zoldyck (Christina Vee)
Examinee #99. Killua belongs to a family of assassins and joined the Hunter Exam for fun, but soon met Gon, the first friend he ever had. Killua made it to the final phase, but lost as his first match turned out to be against his brother Illumi, who had taken the Exam in a disguise. This shock, as well as fear of his brother, drove Killua mad, causing him to kill Bodoro. As a result, Killua was disqualified and went back home.
Hisoka Morow (Keith Silverstein)
Examinee #44. A dangerous unpredictable character, Hisoka works on unknown motives. He passed the Hunter Exam by intimidating Bodoro to surrender.
Illumi Zoldyck (Chris Hackney)
Examinee #301. Killua's brother who entered the Hunter Exam under the alias "Gittarackur". It was this revelation, along with a threat from him to kill Gon and the others, that caused Killua to forfeit their match. Illumi is also an ally of Hisoka.
Hanzo (Ray Chase)
Examinee #294. He's a ninja; He passed the Hunter Exam by intimidating Pokkle into surrendering.
Pokkle (Bobby Thong)
Examinee #53. Specializing in using a bow and arrow, Pokkle's dream is to become a Beast Hunter. He won the Hunter Exam due to Killua's interference.
Bodoro (Doug Stone)
Examinee #191, now deceased. A kung fu master, he had a soft spot for children and didn't wish to fight Gon or Killua. Ironically, it was Killua who killed him, ending the Exam.
Episode 21: "Some x Brother x Trouble"
Chapters adapted: 37-38
Corresponding 1999 episodes: 30-31​
Last time...
Gon woke up after having been knocked out by Hanzo, awakening to the sight of Satotz at his bedside. He informed Gon that the Exam was over and he had passed. Describing the rest of the Exam, Satotz said that Hanzo, Kurapika, and Hisoka had all likewise passed their matches in the first round. Killua was up against the pin-faced Gittarackur, who, to Killua's shock, turned out to be his older brother Illumi in disguise. Illumi threatened to kill everyone in the room, as well as Gon, if Killua didn't fight, but Killua was too scared and chose not to fight regardless. Illumi reassured Killua that he was just kidding (taking it as a test of whether Killua really valued his friends or not), but it took such a toll on Killua that he began to go crazy. Leorio was put up against Bodoro, but Killua interrupted the match and brutally killed Bodoro. This ended the Hunter Exam, automatically passing Leorio and Pokkle while disqualifying Killua, who promptly left to go back home.

Gon, upset not just at how the final phase played out, but especially for what Illumi had caused Killua to do, stormed off to a meeting area where the passing Examinees were gathered, in order to confront Illumi.
This time…
The Hunter Exam arc concludes!
No spoilers.