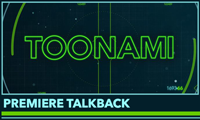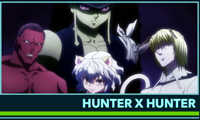 Opening theme:
"Departure!" by Masatoshi Ono
[VERSION 5]
Ending theme:
"Hyōri Ittai" by Yuzu
[VERSION 1]​
Episode 101
"Ikalgo × and × Lightning"
Chapters adapted: 238-242
​
This time:
Killua confronts Ikalgo, but soon finds himself against the Ortho Siblings, who use their powers to turn Killua into a human dartboard!
Notes:
The chapters which this episode covers can be found in volume 23 of the manga release.
Episodes 1-75 are currently available across four Bluray/DVD sets from Viz Media.
The first movie, "Hunter × Hunter: Phantom Rouge", is now available on Bluray and DVD.