Ordinarily it takes me a little while to learn everybody's names when I'm watching an anime for the first time, especially if it's one with a huge cast like
Bleach
or
Naruto
or
My Hero Academia
. So let me see if I've got these names down...
The ditzy girl who had the flower coming out of her forehead was named Kana...
The one with the Chie Satonaka jacket and the Peppermint Patty fringe had a weird name...Pets, was it? Is that a nickname?
The one with the interest in engineering and--I'm trying to be as polite as I can here--the low metabolism was named Mossan...
Hijiri was easy, she's the designated "pretty one"...
And as for the one with the guitar...
Ummm...crap, I've forgotten...ohh, I heard it last week...it was...
Uggh.
Oh well, I'm sure we'll see her again.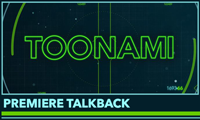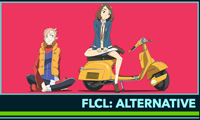 FLCL Alternative
Episode 2 - "Grown-Up Wannabe"
Kana and her besties witness Hijiri kissing a college student, Toshio, inside his car. Acting more mature than any of her classmates, Hijiri suggests Kana and her besties do a photo shoot with Toshio.
​
So the boy's name is Toshio?
(FYI, in case you missed them,
they showed music videos last week for the themes from Alternative and Progressive.)
Last edited: