The original
FLCL
was through the eyes of a sixth-grader.
FLCL Progressive
focused on a group of middle-schoolers.
It seems only natural that its third incarnation would take place in a high school.
Welcome to
FLCL Alternative
, the second of Toonami's sequel series and the final chapter of the trilogy (well, unless they decide to do a "FLCL Grunge" series that takes place in college or something).
If I remember correctly from its April Fools' Day stealth premiere (and the promos), this series will focus on a group of high school friends on the verge of graduating, wondering what will happen to them with all of these endless possibilities stretched out before them. This is of course
FLCL
, what with the giant irons and robots and the omnipresent, unpredictable Haruko Haruhara, so wherever the showmakers take it from there is anybody's guess.
In the weeks since
Progressive
ended, I've done some thinking about the whole theme of this show, and I've come up with some thoughts about the meanings of the various elements therein. I'm not going to share them, however, until
Alternative
ends, so I can adjust my theories accordingly.
In the meantime, I'm going to see what this season has to offer, and I hope you will too.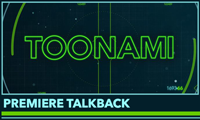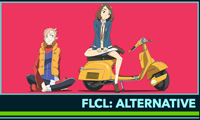 FLCL Alternative
Episode 1 - "Flying Memory"
Kana Koumoto, a cheerful 17-year-old, can often be a klutz and nosey. One day, while hanging out with her best friends Pets, Mossan, and Hijiri, they start making a rocket using empty soda bottles.
​
I've saved these last two words for those of us who were here around midnight ET on March 31st:
NO SPOILERS.
Last edited: