Ride On
Staff member
Moderator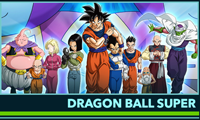 Opening 2:
Limit-Break x Survivor by Kiyoshi Hikawa
Ending 7, version 2:
Aku no Tenshi to Seigi no Akuma by THE COLLECTORS
​
Last Time
: The Grand Minister drops the bombshell that the losers of the Tournament of Power will have their whole universe destroyed! On the bright side, the winner gets to make a wish using the Super Dragon Balls. Meanwhile, the Grand Minister also wants to hold a mini exhibition tournament between universes 7 and 9. Goku recruits Majin Buu and a reluctant Gohan, and the group heads off to the Grand Zeno's palace, where Majin Buu begins his fight against Basil, a fighter from Universe 9. Majin Buu is seemingly being dominated...
This Time
: The first round of the exhibition heats up as Majin Buu and Basil begin to fight seriously. But can Buu win his first fight in ages?
NOTES: No spoilers, or Majin Buu will turn you into chocolate.