Ride On
Staff member
Moderator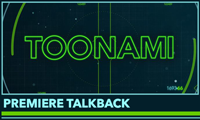 Opening 1, version 6:
Chozetsu Dynamic by Kazuya Yoshii
Ending 6:
Chao Han Music by Arukara
​
Last Time
: Despite thinking they had defeated him, Zamasu merely casts off his physical body in order to spread his evil energy across the planet. He then begins destroying everything in sight, including every single living being on Earth! Desperate, Goku uses the button that Zeno gave him in order to summon this universe's Zeno, who promptly destroys Zamasu - along with that entire universe. Goku and company narrowly escape to their timeline (and bring that Zeno along with them). Whis comes up with the idea to take Trunks and Mai to an earlier, safer version of their timeline. Meanwhile, the two Zeno meet and become friends.
This Time
: Goku agrees to finally resurrect King Kai using the Dragon Balls, but unfortunately, everyone else has a wish they want granted too! Who will get their wish granted?
NOTES: Tonight's episode is followed by the series finale of Dragon Ball Z Kai. Watch them both, and no spoilers!

Meanwhile, before the next big arc begins, we have about nine "filler" episodes starting with this one. The first three episodes are comedic in nature, while the next six are more action-oriented. Regardless, I recommend that you check them all out.