Opening Theme:
"PAiNT it BLACK" by BiSH
Ending Theme:
"Amazing Dreams" by SWANKY DANK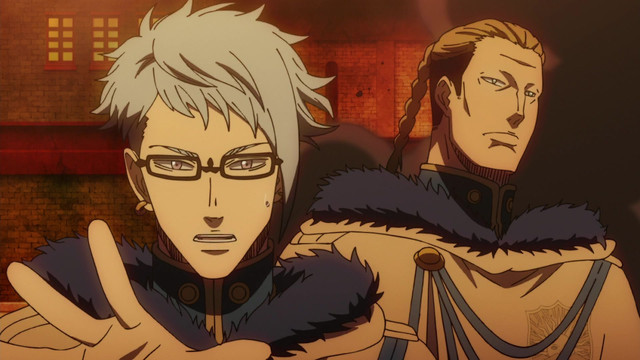 Previously on Black Clover:
On the outskirt of the Clover Kingdom, someone is talking to himself with an incapacitated man. After a while, someone else arrives and informs the man that their preparation is complete.

After Asta's surprising confrontation against the Knights that are attending the conferment ceremony banquet, three of them immediately try to put him in his place. Asta swiftly nullifies Nebra's and Solid Silva's attacks but Alecdora Sandler manages to bind him with his spell. Subsequently, Solid tries to attack him once again but Asta summons his other sword and deflects the attack back towards him.

Seeing the embarrassing actions from his younger brother, Nozel Silva who is the captain of the Silver Eagle squad steps in as he releases his magical power. Fortunately, the captain of the Crimson Lion squad, Fuegoreon Vermillion, interferes as he points out the House Silva's shameless act of attacking a boy. On the other hand, Leopold Vermillion recognizes Asta's skills and quickly announces the latter as his rival. Fuegoreon's comments were not received well by Nozel as the latter gives him a condescending remark which lead to a brief confrontation between the captains.

The confrontation is cut short when someone enters the hall and informs the Magic Knights that the Royal Capital is under attack. The attack is led by Rades who is taking an army of incapacitated men with him.

Rades Spirito attacks the Royal Capital of the Clover Kingdom with an army of incapacitated men. Several guards of the capital tries to attack them but fail to put them down as those men are revealed to be an army of the undead. Rades then summons even more undead, which start attacking everyone in the capital.

Hearing the news, the Magic Knights who are present during the conferment ceremony banquet quickly try to devise a plan of counterattack. However, Asta decides to head outside immediately rather than staying while the citizens are being attacked. He is followed by Leopold Vermillion who wants to see more of his new rival abilities. His brother, Fuegoreon Vermillion, decides to take charge and quickly assigns the Knights into groups to apprehend the situation. After all the Knights have left, Charmy Pappitson reveals herself from under one of the tables. She then quickly leaves the hall after sensing a delicious smell from somewhere else.

Meanwhile, Asta manages to reach Rades, who is about to attack a little girl. When the man vows to destroy the Kingdom, Asta replies by saying that he will protect it.
Tonight:
After hearing about the attack on the capital, Asta rushes out, and the rest of the Magic Knights quickly follow. They find that corpses being controlled by Rades's wraith magic are attacking the citizens