Opening Theme:
"PAiNT it BLACK" by BiSH
Ending Theme:
"Amazing Dreams" by SWANKY DANK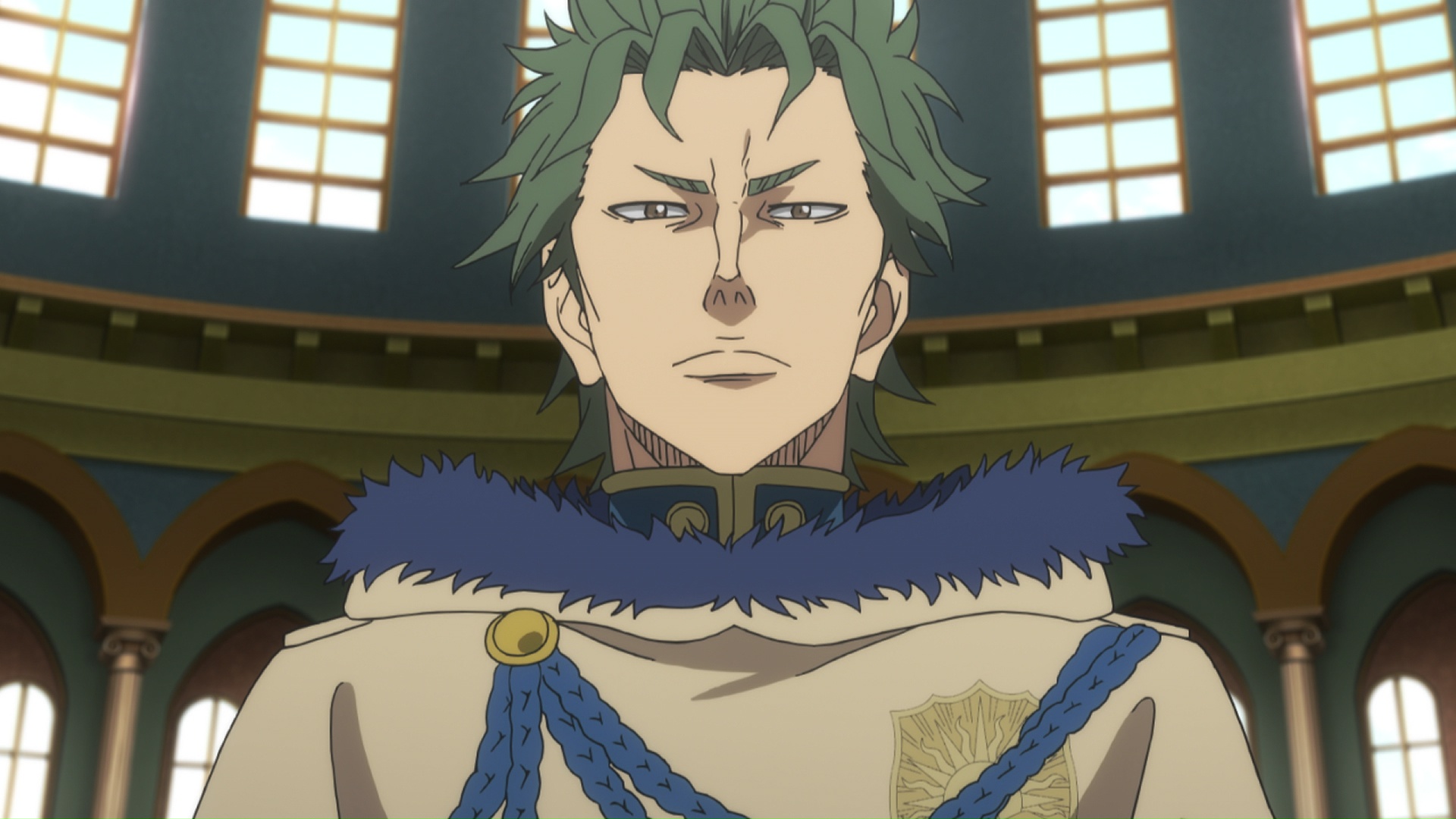 Previously on Black Clover:
Returning back from the mission, Asta finally awakes after a week long sleep of recovery. During a meal, Yami informs him that Asta needs to report to the Magic Knights headquarters at the Noble region while assigning Luck to another mission with Magna. As he arrives at the Noble region alongside Noelle, both of them encounter Klaus, Yuno, and Mimosa whom are also asked to report to the headquarters. Out of nowhere, Mimosa reveals to Noelle that she seems to have feelings towards Asta.

After a while, they finally arrive at the designated venue and quickly are graced by the Wizard King, Julius Novachrono, himself. The King then proceeds to examine both Asta and Yuno's new magic with him able to identify the latter's magic as a wind spirit of the four great attributes, Sylph. On the other hand, Julius is unable to decipher the writings on Asta's grimoire and had his magical power drained by touching the sword that is coming out of it.

Afterwards, Asta and Yuno ask Julius about the method that they have to use to become the Wizard King in which the latter simply said that merits are the vital component to achieve the title. Julius then asks the six young members of the Magic Knights to join him in a ceremony to honor the Magic Knights that have produced the most results while asking them if they could give him better performances.

The ceremony begins as Julius Novachrono starts calling out the names of the medal recipients. He starts with Leopold Vermillion from the Crimson Lion squad, who is promoted to a 2nd class Intermediate Magic Knight after collecting 7 stars. Subsequently, Julius honors Sol Marron from the Blue Rose squad for her 6 stars and promotes her to a 3rd class Intermediate Magic Knights. The nobles of House Silva and Silver Eagle squad, Nebra Silva and Solid Silva, are promoted to a 5th class Senior Magic Knight and 3rd class Intermediate Magic Knight for their 9 stars and 6 stars respectively. Lastly, the Golden Dawn members of Alecdora Sandler, Siren Tium, and Hamon Caseus are promoted to 4th class Senior Magic Knight, 1st class Intermediate Magic Knight, and 2nd class Intermediate Magic Knight respectively.

After the ceremony, Julius holds a banquet to celebrate the Magic Knights' achievements but leaves the venue almost immediately for another matter. During Julius' absence, Klaus strongly senses the stares from the others and compliments Asta's composure over the scrutiny. However, the latter's composure begins to deteriorate as the honorary Magic Knights start throwing insults to Yuno, Klaus, and Mimosa.

Asta finally loses his calm after Noelle's own siblings heartily humiliate their sister with the oldest, Nozel Silva, even going as far as to banish her from the venue. Seeing it happen in front of his eyes, Asta quickly grabs Noelle's arm as he tries to prevent her from leaving. He then climbs on top of one of the tables and makes his declaration to surpass all of them.
Tonight:
Asta defends Noelle from her siblings at the decoration ceremony, and the other nobles try to put him in his place. Meanwhile, Leopold and Fuegoleon seem to have taken a liking to Asta, which causes an argument between Fuegoleon and Nozel.