Opening Theme:
"PAiNT it BLACK" by BiSH
Ending Theme:
"Amazing Dreams" by SWANKY DANK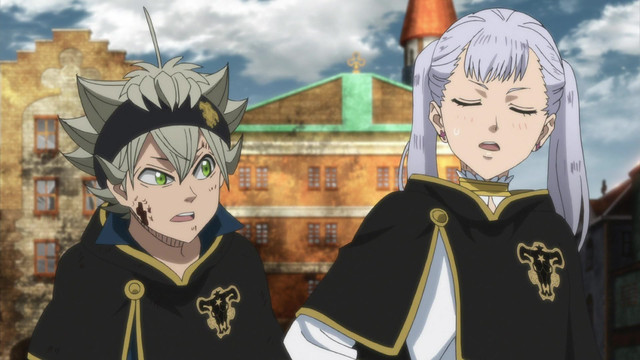 Previously on Black Clover:
Nozel is confused about the lack of enemy strategy. Augustus Kira Clover XIII, the lazy and self-centred King of the Clover Kingdom, who is spending the battle safely with his mistresses in the castle, petulantly demands to know why the Wizard King is not there protecting him. Charmy Papittoson, a young Black Bull obsessed with food, sneaks into the palace kitchen so she can meet the royal chef. Asta cannot match Alfred's speed so Fuegoleon steps in and burns Alfred to ash. Rades mocks Asta's dream of becoming Wizard King using only Anti-magic. Fuegoleon is so impressed with Asta he decides to become his rival as well. He takes Asta's place in the fight so Asta can recover. Rades reveals he used to be in the Purple Orca's squad but was banished from the Clover Kingdom because his necromancy was considered unnatural. Fuegoleon attacks but Rades summons his strongest corpse, No. 1 Karl and hides behind Karl's magic shield. Fuegoleon, being more experienced than Rades, blasts a fire bolt through the shields weakest point, destroying Karl and defeating Rades. The city begins to recover but a witch named Catherine flies overhead implying the battle is not over.
Tonight:
While the masses were praising the Magic Knights for saving them, most of the Magic Knights present are swallowed up by a spatial magic spell known as Blackout.