Moderator
Staff member
Moderator
With Ant-Man all set to make his live-action, big screen debut later this month, I figured it would be a good time to look back on his previous appearances in animation throughout the years. This thread will try and chronicle all the Ant-Men that have appeared in cartoons so far, including his other notable aliases such as Giant-Man, Goliath or Yellowjacket. Also included is Wasp, since she's usually by Ant-Man's side anyway. Most of the images featured in this thread will appear courtesy of
Marvel Animation Age
, and I hope you all enjoy reading it!
Ant-Man made his debut in comics in 1962, in
Tales to Astonish #35
, and was created by the team of Stan Lee, Larry Lieber, and Jack Kirby. The original Ant-Man was scientist Hank Pym (a character who actually appeared in the same comic series moths earlier, in
#27
, before taking on the identity of the superhero), who invented a substance (later known as Pym Particles) that allowed him to change his size. He also created a special cybernetic helmet which helped him communicate telepathically with ants. And thus the Ant-Man was born. He eventually shares his invention with his girlfriend at the time, Janet Van Dyne, who becomes his crime-fighting partner the Wasp. The duo would become founding members of the Avengers and take part in various astonishing adventures. Hank was also the one who originally created Ultron in the comics, something that has been changed in more recent stories (and the
Marvel Cinematic Universe
). Despite changing his codename every so often (see above what other aliases he has used), Hank still remained a hero for most of his career. His relationship with Jan also continued though it wasn't always a happy one.
The second Ant-Man is Scott Lang, who debuted in
Avengers #181
(from 1979), before taking on the mantle of Ant-Man in
Marvel Premiere #47
(also 1979); he was created by David Michelinie and John Byrne. This character was a thief who stole Hank's Ant-Man suit to save his daughter (Cassie Lang) who was seriously ill; he used the suit to rescue the only doctor who could save Cassie's life. Afterwards Hank gave him his blessing to continue operating as the new Ant-Man, providing he'll only use these new found abilities to uphold the law. He would also go on to lead a pretty eventful life as a super-hero, meeting and working together with other heroes, and confronting various super-villains during his run as Ant-Man in the comics.
While many of the shows and movies have featured the original Ant-Man, Hank Pym the newer stuff seems to favor Scott Lang, undoubtedly because of the live-action movie where he's the guy behind the mask (or helmet, or whatever). As for Wasp, well I kind of doubt she'll appear in any future animated projects for a while, which is a shame if you ask me.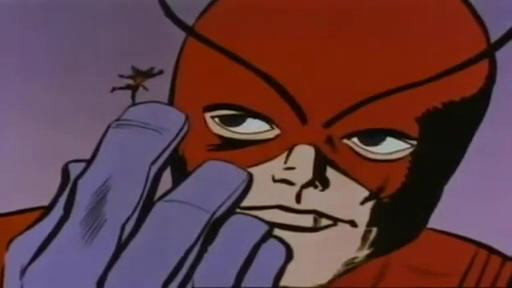 Ant-Man's (and Wasp's) first animated appearances were on the
Marvel Super Heroes Show
, which aired in syndication in 1966 and featured five of Marvel's superheroes starring in their own series each one consisting of 13 episodes (separated into three 7-minutes long segments). This show had very limited animation, and was composed almost entirely of actual comic book panels with a voice-over; basically an early version of today's motion-comics. The pair of heroes was present in a few episodes, from various segments. Their voices were provided by Tom Harvey and Peg Dixon, respectively.
In the
Captain America
segments, which adapted a number of early
Avengers
comics, Ant-Man and Wasp are present in "The Return of Captain America", where the Avengers find Cap frozen and revive him; Ant-Man introduces himself to Cap (once he's calmed down and stopped attacking the others) and describes his powers, mentioning he can also become Giant-Man. They also briefly appear in another episode, "Let the Past be Gone", where Cap meets and fights the Super-Adaptoid for the first time. Notably, Hank is in his Goliath uniform in this episode. Since each episode was pretty much exclusively composed of scans from the comic book pages, it is understandable why the art style or outfits for some of the characters isn't really consistent throughout the episodes. It all depended on the artist who drew the comics, though in Jan's case, she was rather well known for the many different yet similar uniforms she had, so it kind of works for her.
They next appear in an episode of
The Incredible Hulk
, titled "The Space Phantom", where the titular villainous character impersonates the heroes one by one and has them fight each other. There are a couple of amusing lines and moments (such as, the Hulk considering "Girls don't count", in regards to Wasp when counting the Avengers, Jan flirting with Thor, or her being attacked by a real wasp). The Space Phantom impersonates both Giant-Man and Wasp in this episode, though he spends most of the time posing as the Hulk. There are two neat moments that stood out to me - one is how Giant-Man tried to reason with the others and make them stop fighting, and the other is the pretty clever way Wasp contacts the Mighty Thor (by letting know Don Blake they need his help).
We then see them in a
Mighty Thor
episode, "Molto the Lava Man", based on an old
Avengers
comic (as most of the episodes of this show, though there were quite a few
Tales of Suspense
/
Tales to Astonish
adaptations as well). Here the entire team of classic Avengers confronts the Lava Men but the focus is mainly on Thor which should explain why this story was selected to become an episode of his segment. There are some neat scenes with Hank and Jan (in their costumed identities) here, when they're exploring an ant hill before joining the others in battling the Lava Men. Their interactions are amusing and this is probably their brightest moment in 60s animation.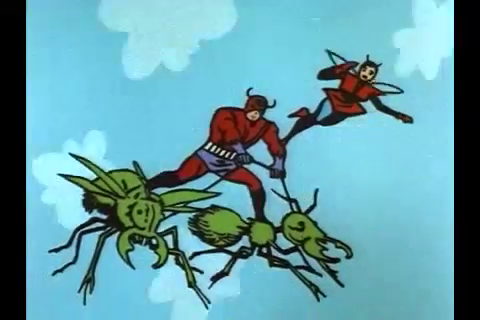 Hank Pym also appears briefly in an episode of
Namor the Sub-Mariner
, titled "To Walk Amongst Men", as a scientist conducting experiments on a ship in the middle of the ocean, unknowingly causing trouble for Namor and the inhabitants of Atlantis. His super-hero alter-ego isn't present in the episode, nor is Jan (though she apparently was featured in the comic this episode was based on).
Their last appearance on the
Namor
segment (and on this 60s show altogether) was in "Dr. Doom's Day", an (in)famous episode which mixed in elements from two classic
Fantastic Four
comic book stories,
Fantastic Four #6
and
Fantastic Four Annual #3
, featuring lots of super-heroes (including the two characters this retrospective is all about) fighting even more super-villains.
Notably, even though based on
Fantastic Four
stories the quartet of heroes is not present here - I'm guessing the company that produced this series (Grantray-Lawrence) didn't have the rights to use the Fantastic Four, as the following year Hanna-Barbera would produce an animated series featuring the Four, where in turn Namor wasn't able to appear. Similarly, the
60s Fantastic Four Show
also did a story based on the classic comic story "The Micro World of Doctor Doom", where Ant-Man was absent, even though he guest-starred in the comic. In this adaptation, the Fantastic Four were replaced with the original five X-Men, and Professor Xavier - and to top it all off, they're called the Allies for Peace.
All in all, not a great start for neither Ant-Man or Wasp in animation. They're both just there, minor heroes compared to the other Avengers. To be fair these cartoons are adaptations of the early Marvel Comics, and I'd say that's pretty much how they were treated in those older comics, as part of the team. Plus, I think they need the other heroes to interact with - on their own, the characters would be pretty boring. (Hopefully the live-action movie will prove Ant-Man can be entertaining enough on his own). The limited animation this show had didn't make really help make them stand out either. Their voice actors did a decent job, judging by the few lines they actually had on this show. All in all, decent stuff but if you haven't seen them yet, you're not really missing much.
Next
: United They (try to) Stand!